Ted Lamb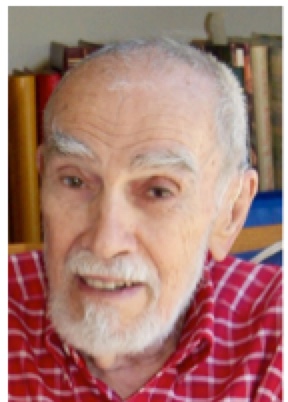 Vernon "Ted" Lamb
Vernon "Ted" Lamb, age 96, of Manhattan, died July 10, 2017, at Good Shepherd Hospice House. Ted was born in 1921 in Augusta, Kansas to Henry and Alice Lamb. They moved to Wichita where he graduated from Wichita East High School. He was a Navy veteran and the first in his family to obtain a college education. He met Eldred Brauneck in college and on August 18, 1951, they were married in Iowa's Little Brown Church in the Vale. Ted and Ellie have three sons, all of whom married: Patrick (to Debra), Christopher (to Ismini), and David (to Tambra). Surviving relatives also include seven grandchildren (Vance, Sean, Justin, Jonathan, Jake, Sheridan, & Cadence) and two great-grandchildren (Lucas Ted & Parie).
Dad loved Westerns and could have been the prototype for the Louis L'Amour hero. He was a big strong quiet man that just didn't take steps backwards. He was also a true gentleman who taught us how to respectfully treat ladies and people from all races and creeds. And yet, he was a man's man. Dad pitched for the varsity baseball team at Emporia State University, played tight end for the football team, and was an undefeated heavyweight boxing champion and wrestler. He was a Navy veteran who served his country as a Submariner during World War II. He said little about these achievements. He was slow to anger, but quick to laugh and share a story. He taught himself how to perform sleight of hand, frequently amazing children by pulling a quarter out of their ear. He was very much loved by all his children, grandchildren and great grandchildren.
The G.I. Bill allowed Dad to obtain a college degree from Emporia State University and then a Master's degree from Columbia University in New York City. He was a masterful silversmith who headed the Wichita North High School's art department for decades. Dad specialized in inlaid belt buckles, rings, crosses, and enamel pieces. For every church he attended, he left behind something beautiful that he created. And Dad loved to fish! He instilled the love of nature in us at a young age. During fishing trips when the fish weren't biting, he would point out birds, insects, and different plants that he knew.
Ted and "Ellie" enjoyed 66 devoted years together, never far from one another's side. All three sons tried to emulate their Dad with varying success. He was indeed a rare man and we will miss him greatly.
His memorial service will be held at St. Paul's Episcopal Church 601 Poyntz Avenue, Manhattan, Kansas on Friday, July 14th at 11:00 am. Family inurnment will be at a later date. There will be no viewing as cremation was chosen.