In Memory
Patrick Garcia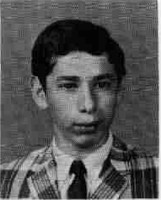 Died of Brain Tumor
Garcia, Patrick D. "Pat," 50, Department of Defense immigration officer, died Saturday, April 8, 2000.
Rosary 8 p.m. Tuesday, service 10 a.m. Wednesday, both at Our Lady of Perpetual Help Catholic Church.
Survivors: wife, Martha; son, Patrick D. II, daughter, Adrienne N., mother Rosa, all of Wichita; brothers Gilbert of Dallas, Ga., Benjamin of Little Rock, Ark., Joe, Ruben both of Wichita; sister, M. Olga Garcia of Dallas, Texas. Downing & Lahey Mortuary West.