In Memory
Tommy Lenz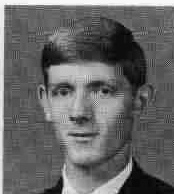 Tommy Dale Lenz (by high school he could have dropped Tommy for Tom)
Born: 01/01/1949 Born at Murray Memorial Hospital in Dodge City, KS (that works for me)
His birth mother had serious health issues and he was quickly adopted by aunt/uncle: George Carl Lenz B: 01/26/1923 of Dodge City & Katheryn Lucille Lindsey B: 09/05/27 Chetopa, KS They also moved to Wichita, KS.
Tommy Dale Lenz Died 08/30/1994 in Wichita, KS
He was a minister and bricklayer. One of the genealogy web sites shows him as a veteran, but we could not get into that part to see what branch of service.