In Memory
Christopher Morton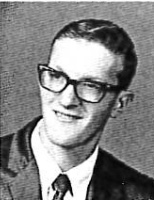 Obituary for Chistopher Wayne Morton
Christopher Wayne Morton, 63, of Temple passed away on November 17, 2012 at a Temple hospital.
Graveside services will be held at 2:00 P.M. Wednesday December 5, 2012 at the Central Texas State Veteran's Cemetery in Killeen with Pastor Gary DeSalvo officiating.
Christopher Wayne Morton was born on February 18, 1949 in Wichita, KS. He joined the U.S. Navy in 1967 and retired in 1998. He married Katharine Mathias on January 10, 1983 in Dallas,TX. He was a member of the Temple Bible Church of Temple. He was a member of the Masonic Lodge of Wichita KS.
Survivors are his wife Kathy Morton of Temple; three sons, Phillip Browning of Temple, Travis Morton of Temple but currently serving in the Navy in San Diego, CA. and Tyler Morton of Temple; two brothers, Art Morton of Burlington, WA. and Bruce Morton of Wichita, KS.; six grandchildren.
Memorials may be made to a charity of your choice.
Crotty Funeral Home & Cremation Services are in charge of arrangements.